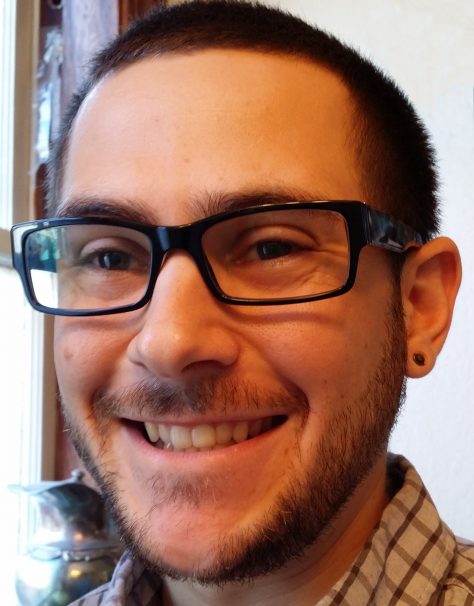 Ryan Gingerich
Creative Tech Geek and Industrial Designer
Industrial design graduate on a product design career path. Quick to master new technologies and processes. A team player with over 5 years of additive manufacturing and digital modeling experience, eager to find new and creative applications for these skills.
Education
San Francisco State University
2014
Bachelor of Science in Industrial Design / Product Design and Development
Diablo Valley College
2009
Associate of Science in Microsoft Windows Systems Administration
Professional Experience
Earlens Corporation
Mar 2017 - Present
Digital Manufacturing Designer
Digital Manufacturing Designer (August 2018 - present)
Recognized for contributions to new product releases and internal software development. Working closely with R&D and Software engineers. Modeling multiple custom lenses concurrently with high attention to detail, and generating 3D printed assets for production of Earlens hearing aid systems. Using creative and problem-solving skills to find solutions for fitting the lens into more challenging anatomies. Tested new 3D printing resins for feasibility of use in production. 3D Scanning of ear impressions.
Assembler IV (January 2018 - August 2018)
Continuing work from previous roles in direct hire position; Responsible for supporting day-to-day activities in 3D Printing/Digital Manufacturing Lab, including 3D scanning, and other 3D printing activities (Build setup, process monitoring, post-processing, and printed part inspection)

Manufacturing Engineering Technician (August 2017 - January 2018)
Primarily focused on supporting production as well as various R&D projects. SLA/CLIP 3D print automation testing, production/R&D 3D print setup, 3D print post-processing, 3D printed part inspection, 3D scanning ear impressions, 3D printer process monitoring, 3D print/3D scan metrics, and new employee/intern training.

Assembler I (March 2017 - August 2017)
SLA/CLIP 3D print post-processing and 3D scanning. 3D printed part inspection, and passing parts down assembly line to CER or other destination.
CC&R 3D
Jan 2011 - Jan 2018
Chief Technician
PC hardware/software/network repairs, 3D design/scanning/printing, and self-hosted webmaster. Managed multiple computer repair and 3D printing jobs at the same time, while getting each job done efficiently and on schedule. Regularly maintained, repaired, and upgraded open source desktop FDM 3D printers. Please also see my old Yelp page for some reviews of my services.
Fictiv
Feb 2016 - Sep 2017
3D Print Vendor
Preferred Vendor: Provided 3D printed parts on contract basis for orders submitted to Fictiv for fulfillment. Managed a growing shop of four (personally owned) FDM style 3D printers for producing various parts of all shapes and sizes. Fast response time to new job requests, and efficient order completion.
Eric's Computers
Sep 2007 - Oct 2010
Lead Technician
PC hardware/software repairs, house calls, remote help desk support, appointment scheduling, invoicing, authored newsletter, and trained interns and new hires.
Digital Modeling Experience
Rhino
My go-to 3D modeling software for most projects. I am most comfortable with Rhino's command driven interface and the ability to create complex surfaces. Rhino is also the primary design software I use at Earlens.
Solidworks
I picked up Solidworks while taking a 3D solid modeling class at SFSU. While it has not been my primary design software, I am more than comfortable picking it back up from where I left off.
Geomagic
3D scan and 3D model mesh repair. Surface analyses for ProJet PM and for testing different print materials/methods at Earlens. Comparisons between 3D scan and physical object from production line.
3D Printing Experience
FDM
4 years experience working with open-source FDM machines. Did plenty of building, repairing, and upgrading of hardware and software. Machines in use: Type A Machines Series 1, MTW Create, RostockMax V3.
SLA
1 year experience working with 3D Systems ProJet 6000 and Formlabs Form 2 3D printers at Earlens. Build setup, process monitoring, post-processing, etc.
CLIP
1 year experience working with Carbon's M1 3D printer at Earlens. Build setup, post-processing, etc. Testing various resins for potential use in production.
DLP/LCD
I have been surprisingly impressed with my UNIZ SLASH desktop 3D printers so far.
Other Experience
Medical Device Experience
Earlens has so far given me over 2 years of experience with their cutting edge hearing-aid technology. MPs, MRs, EBRs, WOs, POs, RMAs, PDs, NCRs, PMs, Line Clearance, etc are all routine.
Computer hardware / software / networking
8+ years of professional experience building and repairing computer hardware systems. Software troubleshooting and repairs. Wired/wireless network setup and repairs.
Linux Server
After working with Linux on the onboard computers inside my open-source FDM 3D printers, I decided to build and configure my own personal server which is hosting this website and other useful services.
Troubleshooting
Extensive troubleshooting experience derived from years of computer repair work.